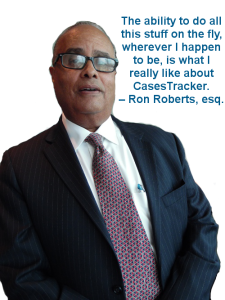 Here are some great tips from the America Bar Association how your law firm can benefit from going paperless.
Reduced costs and labor
Inexpensive and easily searchable document storage
Improved client communication and service
Innovations including document automation
Here are some additional tips to have a paperless law firm
By reducing the amount of paper you use for printing, you are not only saving money, but you are having a positive effect on the environment, because the less paper we use, the less trees need to be cut down and the more oxygen we have.
You can also change your light bulbs to energy saving light bulbs. Compact fluorescent light bulbs will greatly help you reduce the amount of energy you use in your office on a daily basis.
So there you have it. A few tips to help you help your environment which gives you an environmentally friendly paperless law office.
GotaCase is offering CasesTracker to you at no cost until 2016 and then it will only be less then $50 a month. Use the "SHAKE2015″ coupon code to get the fees waived. Hurry it takes at least 30 days to test a legal management system, Don't wait until the last minute to take up this offer.