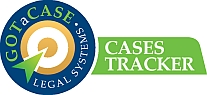 How Can CasesTracker Legal Software Help Your Law Office?
CasesTracker by GotaCase is a Legal software tool that can be utilized by a law firm to help organize and increase productivity in day-to-day activity. Practice and case management law software can provide attorneys with an easy method of managing client and case information.
Our legal software – CasesTracker – is legal case management software designed specifically for the needs of law firms. It manages many of the needs that law firms have including organizing clients, dockets, and the progress of client's cases. It makes it simple to collect and manage important information in a secure manner.
Our CasesTracker legal software is simple to use and won't take weeks of training for your staff. If you are looking for a simple, yet effective, legal software solution, we have what you have been looking for.
What Type of Information Can I Store in My CasesTracker Legal Case Management Software?
The information managed by the CasesTracker legal software is vast. Each law firm will have their own specific needs. However, here are a few ways that CasesTracker law firm software may be used in your law office:
Case Management – CasesTracker Legal case management software is perfect for managing your client and case information in an efficient manner. Information for your cases can be centralized for easy access and research. Search features help find the exact information you are looking for in a case and date stamps allow for you to easily tell if statute of limitations is approaching.
Manage dockets – CasesTracker Legal software allows for the easy management of dockets and paperwork related to a particular case.
Contact management – Utilizing CasesTracker law software for contact management is also very important. You can track details of phone calls, emails, and all correspondence easily within the system.
What Can CasesTracker Law Office Software Do for You?
Do you currently have law software that you are using? Does it have the capabilities you need? Or are you running your law office without law office software?
If your legal software needs an update, switch to CasesTracker legal software. CasesTracker is simple, secure, and does exactly what you need. You will have access to your legal software data whenever and wherever you need it, making it a vital part of your law firm activity. Once you switch to CasesTracker law software, the time saved sifting through piles of papers, looking for docket information, or endless hours spent filing will be a thing of the past.
We Keep Client and Law Firm Information Secure.
Security is at the forefront of all our legal software solutions. You can rest assured that the data you input into the CasesTracker law firm software is safe and secure. You can backup your data and will always know that the data will be available when you need it.
Never worry about missing papers, lost files, or incorrect filing with a reliable CasesTracker legal software system. Contact us today to learn how our effective CasesTracker legal software can work for your law firm or law office.